The Opportunity in Emerging Markets

August 21, 2023
Emerging Market (EM) economies are developing nations which are growing quickly and will, ideally, become more integrated into the global economy over time. EM economies are often characterized by higher economic growth and population growth. This combination creates an environment in which companies and industries can grow rapidly as the broader economic and financial system develops.
Navigating the complexities of emerging markets is notoriously difficult, but it holds great opportunity for growth and diversification. While the prospective returns of higher growth economies are alluring, complexities in the global economy cloud the simple assumption that higher GDP growth translates into higher earnings and market returns. Therefore, it is imperative to be conscious of the political and economic background of underlying investments in emerging markets. These factors are a primary reason we view active management as essential to EM investing.
Our research suggests EM equities may be attractively positioned; EM equity valuations are attractive relative to the United States, with the spread between these two entities at its widest in two decades. Additionally, earnings for EM equities have fallen since 2021. Because of these factors, the EM index is ~30% away from its peak in 2021. While there are many factors which catalyzed this decline, high inflation, a risk-off mindset in investors, and the dollar's strength played roles in burdening EM equity returns. A reversal in these trends would likely be large tailwinds to EM economies and offer great opportunity for return.
Specifically, the U.S. dollar's strength, relative to other currencies, weighs on EM economies. However, we see the potential for the dollar weakening as it is currently very elevated against other currencies. Other countries have also begun to slowly diversify away from the dollar, suggesting demand for the dollar may be at risk over time. If the dollar does weaken, the opportunity in emerging markets would likely be increased. Nevertheless, if these macro-tailwinds do not play out, proper active management, which is focused on more idiosyncratic opportunity, can offer opportunity for return and diversification.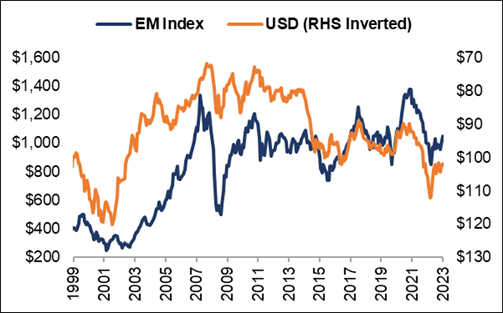 Data Source: Bloomberg
Another benefit of exposure to EM equities is the diversification of portfolios. Different investments are affected differently by various economic conditions or market trends. Diversification works to reduce risk in portfolios by allocating capital to various asset classes, geographies, and industries. By investing in EM equities, we have the ability to increase the diversification of client portfolios and gain exposure to various new opportunities.
As always, Acumen is dedicated to uncovering opportunities to protect capital and grow assets. We believe prospective economic growth, attractive positioning, and potential macro-tailwinds, all work to present the opportunity available in emerging markets. The opportunity provides portfolio diversification benefits and a potential for growth, and we believe an astute actively managed approach could capture these benefits.
Information used in this commentary was obtained via Bloomberg L.P.
The opinions expressed in this commentary should not be considered as fact. All opinions expressed are as of the published date and are subject to change. Information contained herein is not and should not be construed as an offer, solicitation, or recommendation to buy or sell securities. Investments in securities involves risk, will fluctuate in price, and may result in losses. The information has been obtained from sources we believe to be reliable; however no guarantee is made or implied with respect to its accuracy, timeliness, or completeness. It is suggested that you consult your financial professional, attorney, or tax advisor with regard to your individual situation. Comments concerning the past performance are not intended to be forward looking and should not be viewed as an indication of future results. Diversification does not protect against loss of principal.
Any charts, graphs, and descriptions of investment and market history and performance contained herein are not a representation that such history or performance will continue in the future or that any investment scenario or performance will even be similar to such chart, graph, or description.
Acumen Wealth Advisors, LLC® is a Registered Investment Adviser. Advisory services are only offered to clients or prospective clients where Acumen Wealth Advisors, LLC® and its representatives are properly licensed or exempt from licensure. Past performance is no guarantee of future returns. Investing involves risk and possible loss of principal capital. No advice may be rendered by Acumen Wealth Advisors, LLC® unless a client service agreement is in place.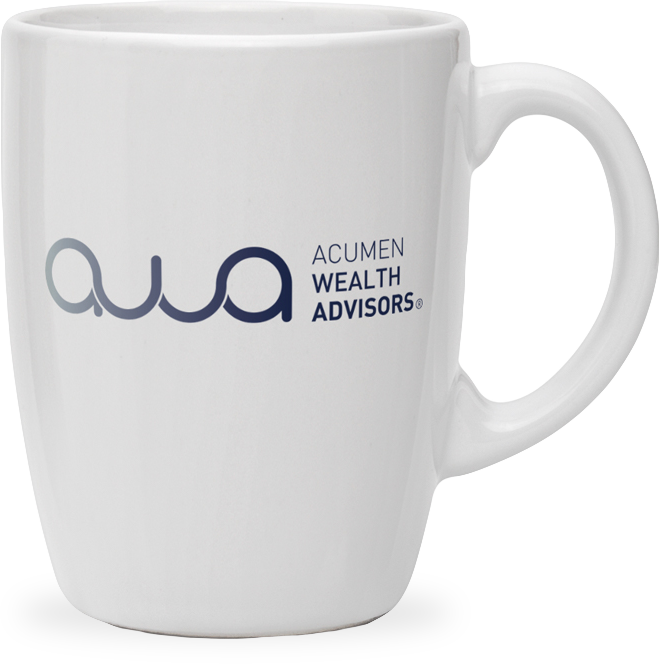 Get in touch
Our mission is to help you and your family Invest Intentionally®.
Contact us today to start your journey.
Start your journey